The Bridge to Everywhere
Everyone asks the question. "What's it gonna cost?" for <this or that advertising, marketing or public relations service>?"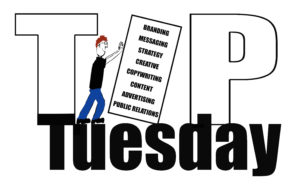 Few are ever happy with the answer – "That depends."
But it's the most honest response, even if it is lacking precision.
Asking a creative firm, "How much is it going to cost to get a (your need here)," is like asking a construction company, "How much is it going to cost to build a bridge over the Red River?"
Neither the creative agency nor the construction company will be able to provide a reasonably accurate answer before finding out precisely what you want to get done and defining the scope of the work it'll take to get you there.
A colleague recently gave the best answer I've heard in nearly two decades in this business:
"Somewhere between affordable and optimal."
I understood precisely what she meant.
Ask me the question, and I'll ask you a bunch more. We'll talk. We'll hash over the big picture. We'll go back and forth on the details.
I'll recommend advertising, public relations, online marketing, blog posts or a combination of those and a bunch of other communication tools, whatever I believe will build the best bridge between you and your customers or prospects. Then I'll tell you what it's going to cost. The number will be somewhere between affordable and optimal (good-better-best, anyone?), and I'll stick to it, no matter how much time it takes me to do the job well. (Learn more about FredComm pricing.)

https://fredrickscommunications.com/wp-content/uploads/2018/05/bridge-3356859_1920.jpg
1280
1920
Martin Fredricks
https://fredrickscommunications.com/wp-content/uploads/2017/05/FredComm-newTag-Lg_clr-300x116.jpg
Martin Fredricks
2018-05-07 23:47:38
2019-02-17 22:07:42
Tip Tuesday – What Advertising, Marketing or Public Relations Costs