As a branding guy, I can't help but wonder if the despicable behavior by Philadelphia Eagles fans before, during and after the NFC championship game last weekend will hurt BlackRidgeBANK.
BlackRidgeBANK signed an endorsement deal with Carson Wentz, Bismarck native, North Dakota State University star and 2nd overall pick in the National Football League draft in 2016. BlackRidge has 11 locations in North Dakota and Minnesota.
Most North Dakotans, like most anyone in the country who is a football fan, are familiar with the narrative from there.
Wentz gets elevated to starting QB before the regular-season kickoff in 2016, works his butt off during the off season, leads the Eagles to a 10-2 start in MVP-like form in 2017 and, unfortunately, goes down to a knee injury (torn ACL) against the Los Angeles Rams. Backup QB Nick Foles takes over and gets the Eagles to the NFC title game against the Minnesota Vikings.
The Vikings travel to Philadelphia, followed by many of their diehard fans. The Eagles manhandle the Vikings in a 38-7 drubbing and hand Minnesota fans yet another disappointment in a long string going back to the team's founding.
No Skin in the Game
Full disclosure:
I'm a Carson Wentz fan, big time. This young man is a tremendous ambassador for Bismarck, my alma mater (NDSU) and North Dakota overall. From everything I've seen, read and heard, he's a standup guy with integrity to spare. Not to mention, he's one heck of a quarterback.
On the other hand, I'm not much of a pro football fan. As for the Vikings, I haven't cheered for them since 1999. (Two words for you – Gary Anderson.)
Flying in the Face of Decency
Based on firsthand reports on social media, in Philadelphia the people in purple were heckled, spat upon, targeted with full beer cans thrown at great velocity, flipped off, beaten and subjected to numerous other degradations people can inflict upon other human beings.
I've seen the videos and read the accounts.
I'm pretty sure this is not what the Philadelphia Eagles organization has in mind when it uses the hashtag #FlyEaglesFly. Its brand is about soaring achievement, not violence or expletive-laced insults.
I also read a heartfelt open letter from KFGO talk radio host Joel Heitkamp to Amazon, asking that the company locate its new multibillion dollar facility anywhere but Philadelphia because the people there don't deserve it.
"I have never seen such a display in my life," Heitkamp wrote.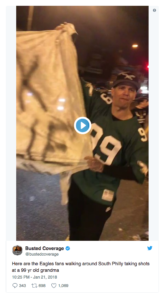 This represents a call to change business practices based on the whole ugly scene, and perhaps, by extension, a change in consumer behavior toward a specific business. Keep that in mind.
The worst of it, if it's real, is a video that shows two Eagles fans marching down a street after the game with a sign reading "F#!k Millie." It's a reference to 99-year-old Vikings fan Millie Wall, who was featured in feel-good stories leading up to the game.
Millie handled it with grace, of course. Here's part of the Facebook post from a member of her family the day after the insult:
"STATEMENT: Millie Wall and our family would like to extend our sincerest thank you to the Minnesota Vikings, the NFL, and the community for following her story over the last few weeks. We would also like to congratulate the New England Patriots and the Philadelphia Eagles on their trip to Super Bowl LII here in our home city of Minneaplis on February 4, 2018. Our family and the state of Minnesota look forward to welcoming both teams and their fans to our community over the next couple of weeks…."
Such class.
Which takes me back to BlackRidge and Wentz, who is a brand unto himself and seems to be a first-class guy.
The Grudge
There are lots of Vikings fans nursing this new grudge, not just because of the smackdown on the gridiron but because of the way they and their fellows were treated in the so-called "City of Brotherly Love."
The Wall family's rise-above-it-all message notwithstanding, folks here in Vikings country don't seem disposed to follow her lead. Not for the time being, at least.
To my knowledge, BlackRidge does not sponsor the Philadelphia Eagles and the Philadelphia Eagles organization does not endorse the bank. The sponsorship deal is between BlackRidge and Carson Wentz.
Who happens to be the star quarterback for the Philadelphia Eagles.
A Clean Game
The question remains.
Will Eagles fans' deplorable behavior influence decisions Minnesota fans otherwise might have made to do business with BlackRidge? Will its loan business decrease over the next few months? If so, will there be a direct correlation or relationship between that and what happened in Philly?
In short, will the BlackRidgeBANK brand suffer, or will reason prevail?
If nothing else, it would make a great case study for a university-level business or marketing class.
As for me….
I believe most people in Vikings country are reasonable enough to understand Wentz is not responsible for Philly fans' behavior. The Eagles organization, the city of Philadelphia and the Eagles fans who display good sportsmanship aren't either.
I do not believe BlackRidge will be impacted significantly. People won't allow what happened to change the way they think of or interact with the bank, which seems to be an upstanding organization. Nor do I think it should affect the bank's relationship with Wentz.
But if I were responsible for the BlackRidge brand, I'd definitely be thinking about it right about now. I might even be making plans to get out ahead of any negative backlash.
One way or another, I hope reason and sportsmanship prevail when the Eagles and their fans show up in Minneapolis to play in Super Bowl LII, even if some of those fans don't deserve it.
https://fredrickscommunications.com/wp-content/uploads/2018/01/Untitled-design-1.png
505
880
Martin Fredricks
https://fredrickscommunications.com/wp-content/uploads/2017/05/FredComm-newTag-Lg_clr-300x116.jpg
Martin Fredricks
2018-01-23 22:13:45
2018-01-26 12:32:25
Nasty Philly Fans and the BlackRidgeBANK Brand